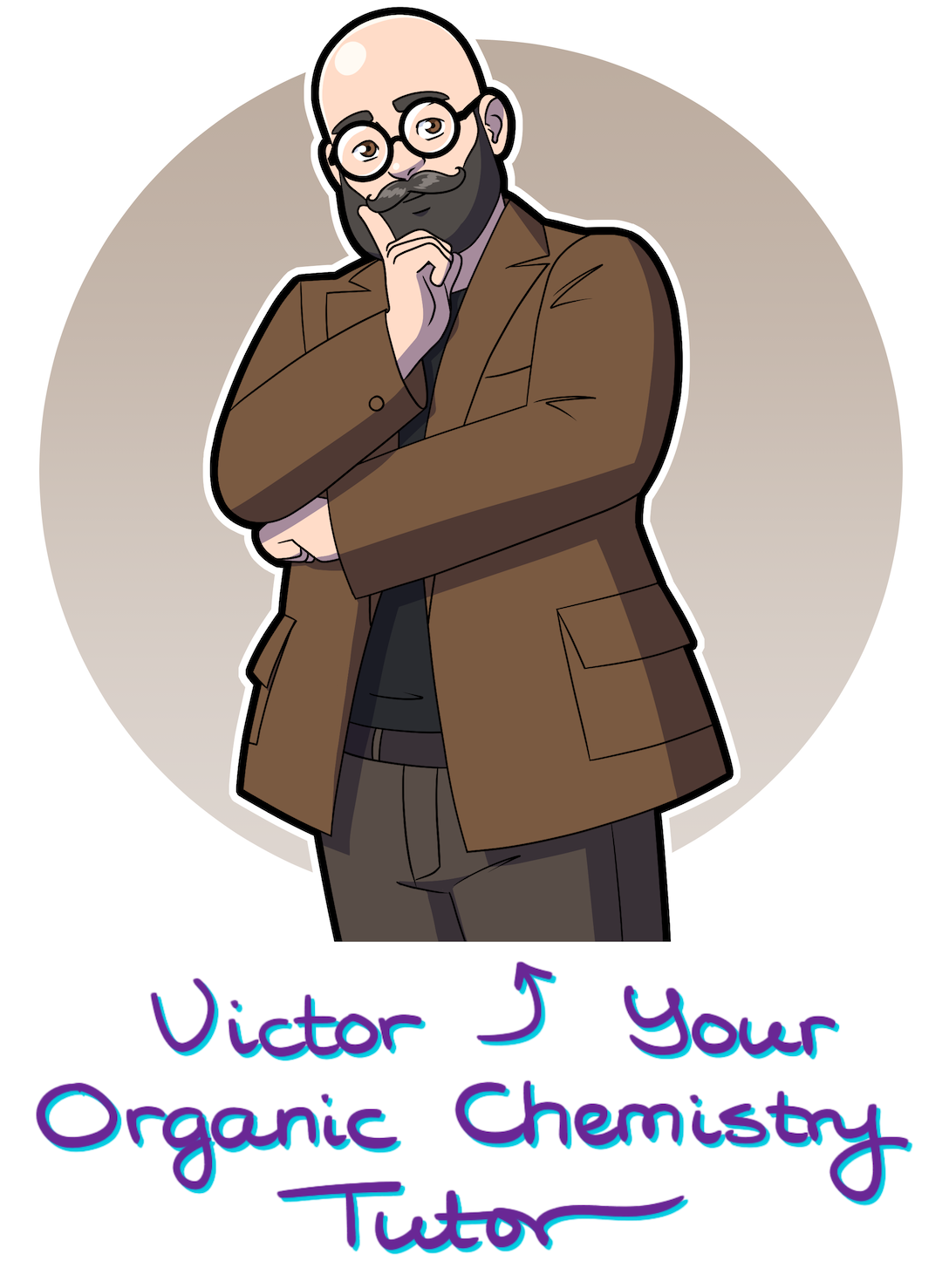 Why Choose Organic Chemistry Tutoring with Me?
Having an organic chemistry tutor is pretty much "a must" for most students who want to do well in organic chemistry. OChem is known as one of the toughest college classes for a reason! All the drop and fail stories and broken dreams can certainly seem disheartening. Can you imagine just how much it would delay your academic progress and your career opportunities if you had to retake organic chemistry?
One-on-one organic chemistry tutoring will help you to stay on top of the material, make sure you have a solid foundation, and—ultimately—keep you above the curve in your class. Unlike your typical organic chemistry class with hundreds of students, one-on-one organic chemistry tutoring is all about you. I don't just lecture like your instructor does, I give you a chance to learn by asking questions and doing practice problems. I run my sessions at a pace that works for you. This way you will have all your questions answered.
I specialize in organic chemistry tutoring. Unlike many other tutors who tutor just about anything, I only tutor organic chemistry and related subjects such as biochemistry, advanced synthesis, graduate level organic chemistry, etc. I help students with organic chemistry by providing one-on-one and group organic chemistry tutoring.
I specialize in organic chemistry tutoring and will be happy to help you with any level coursework you have!
I have an outstanding academic preparation in chemistry (two Master's degrees in synthetic and organic chemistry and a Doctorate in chemistry education with emphasis on organic chemistry education), and I have published my research in the fields of inorganic chemistry, coordination chemistry, organic chemistry, organic mechanisms, and chemical education. I'm a highly trained and specialized professional educator and an active member of the American Chemical Society, American Educational Research Association, National Association for Research in Science Teaching, and American Association for the Advancement of Science.
Now when we are done with the mandatory "show-off" part, the short story is: if you want to maintain an excellent permanent academic record, master the organic chemistry material, and develop the essential problem-solving skills to succeed in organic chemistry, keep reading!
I understand that you sought out organic chemistry tutoring because you're struggling with the subject. I also understand that learning organic chemistry takes time and considerable effort.
Regardless of how hard or frustrating it can be, I'm on your side, and I'm here to help you on this journey. I'm skilled at explaining concepts from different perspectives to accommodate your specific learning style. I pride myself on my rigorously individual approach to tutoring, tailoring my lessons to your individual needs, goals, and academic preparation.
Over the years I have helped hundreds of organic chemistry students from all over the country. My current list of schools includes 70+ universities ranging from Harvard, MIT, Duke, Princeton, Vanderbilt, UC-Berkeley, UMich, Ohio State, Cornell, to small community colleges and liberal arts schools all over the US.
Now, the long story…
I love chemistry. I've decided to become a chemist when I was six years old and I stayed true to it through my entire life. When I was first introduced to organic chemistry, it quickly became my true passion that later resulted in my first organic chemistry degree and a few publications.
Following a regular academic path, I learned the ins and outs of academia. I dealt with the administration, the collaborators, the researchers, the conferences, the lectures, labs, faculty meetings… you name it. Yet, the most rewarding aspect of it all for me was teaching and working with students. The biggest challenge I faced daily was to reach every student in the classroom. For some, my teaching was too fast and involved, for others it was too slow and didn't challenge them enough. The "golden middle" really doesn't work in a 400-student auditorium. So, I quit academia and became a full-time private organic chemistry tutor.
I love being a tutor as it allows me to help each individual student and not the theoretical "average" in the crowd. After spending over a decade working with students from the top-tier schools I became intimately familiar with the organic chemistry curriculum and the requirements at every level. I'm also very familiar with many instructors and their "quirks" thus I can anticipate their tricks and questions on the exam.
…ok, I suppose it wasn't actually that long LOL 🤣
I can help you do your best on the exams and get the grades you deserve!
What Is My Teaching Style?
I'm a very straightforward no-nonsense teacher. My job is to help you succeed in the hardest class in a college curriculum and I'll do whatever it takes to guide you towards this goal.
I'm very patient. I understand that you sought out organic chemistry tutoring because you're struggling with the subject. I also understand that learning organic chemistry takes time and considerable effort. Regardless of how hard or frustrating it can be, I'm on your side and I'm here to help you in this journey.
I'm skilled at explaining concepts from different perspectives to accommodate your specific learning style. I pride myself on my rigorously individual approach to tutoring, tailoring my lessons to your individual needs, goals, and academic preparation. I routinely prepare customized testing and practice materials for my students targeting specific strengths and weaknesses.
Victor has helped me to not give up on organic chemistry. With such a difficult, tedious, conceptual subject, Victor is always patient and willing to explain a concept in more than one way.

– Katie, Colorado University Boulder

I'll help you develop a step-by-step plan to master organic chemistry and graduate faster!
I use a multifaceted approach in my teaching to help my students. I bring clarity in organic chemistry by helping you review, organize, and systematize your chemistry knowledge into a coherent whole. My goal is to help you master the concepts by teaching you how to break them down to fundamental principles and reconstruct them for yourself from ground-zero.
Victor taught me organic chemistry, he helped me get a good grasp of the subject and was very clear and helpful. He made it pertain to real life and made this fuzzy difficult subject clearer and not seem so scary! Highly recommend him!

– Robbie, Texas A&M
Ultimately, whatever your current level or aptitude is, your success is my primary objective.
I'll give you a safe and comfortable place to learn, make mistakes, learn from them, and grow academically to the next level.
I'll help you set long- and short-term goals and help you achieve the outcomes you want.
I have a proven record of success of my teaching approach. Over the years of teaching organic chemistry to college students all over the world, I've developed a very flexible teaching style that I can easily adjust to each student's needs.
Many of my students come to me with a C's or even a D's at the beginning of the semester or after the first test and leave with A's and B's!
I have been tutoring with Victor for my entire quarter of school (about 12 weeks) and have been taught so much. Victor always knows how to clarify any questions that I have and is very patient with me. Prior to having sessions with Victor I had a lot of anxiety and struggles, as I was taking Ochem 1 with no help; ultimately leaving me with a finishing grade of a 2.1. After learning my lesson and moving into Ochem 2 I found Victor and can now proudly say that I will complete the class with a 4.0! Thank you so much for all of your help and clarifying much of my struggles and anxieties with this class.

– Meghan, University of Washington
I've helped hundreds of students achieve seemingly impossible: not just pass organic chemistry but master it! I'm proud of the work I do, and I would be happy to help you achieve similar results.
However, I don't see college tutoring to be a remedial tool. To me, it is rather like having a personal academic coach who helps you to succeed!
How Do I Meet With My Students?
I work with my organic chemistry students online. I use a host of online teaching tools to facilitate the meeting and make it easy, productive, interactive, and enjoyable!
You can learn more about how online tutoring works by clicking here.
The online format allows you to save time on traveling, saves you the headache of traffic, and bring you the convenience of meeting from home (or any other place you feel most comfortable in). Many of my students work with me in between their classes while they are on campus or when they come back home from classes.
How would you like to meet with you tutor right from your home with a cup of home-made coco in your hand wearing you favorite plush slippers? Well, that's what I offer you by meeting with you online!
Regular organic chemistry tutoring meetings vs on-demand meetings
So, what's the difference between working on a regular basis with me vs scheduling your organic chemistry tutoring meetings when you need them?
Firstly, keeping a regular schedule keeps you more disciplined with your studying and coursework. Having an experienced dedicated tutor guide your learning of organic chemistry will save you hours of study time each week!
Secondly, I'm extremely skilled at finding the weak spots and gaps you may have in your understanding of organic chemistry concepts. I'll show you all typical "trick" questions, help you develop bulletproof problem-solving strategies, and help you understand the material beyond simple recognition. It's only possible to fine-tune tutoring to you and your strengths and weaknesses if we meet regularly.
Lastly, I only accept a few organic chemistry students each semester, so I can give them my complete and undivided attention. All my regular students benefit from personalized practice materials, unlimited feedback between the meetings, and additional review sessions before exams if they like some extra practice.
Frequently Asked Questions
How much do you charge?
Depends on the type of tutoring we do. My current rate is $200 for a 60 min appointment.
Tutoring packages secure your guaranteed time slot for the whole semester. While you're my student, I do not take vacations, I do not observe holidays, or take time off. Wanna have a meeting just before you go grab some turkey with your loved ones at a Thanksgiving dinner or solve some organic chemistry problems in the middle of a Cinco de Mayo Parade? I'll be available! Regular meetings also have a number of additional benefits like extra time flexibility and additional time slots that's not available for on-demand meetings, specially tailored meetings for exam reviews, personalized practice materials, unlimited feedback between the meetings, complimentary organic chemistry tutor membership for the entire duration of tutoring, and much more.
Is it still possible to only schedule meetings when I need help without committing to a semester/term package?
Absolutely. However, I always prioritize my regular students and their schedule. Chances are, you may not be able to schedule a meeting when you want because my schedule has already been filled by my regulars. This is especially true during the finals so you'll have to book your meetings at least 1-2 weeks in advance.
Do you offer any custom tutoring packages?
Yes, if your course or academic situation doesn't fit a typical term or a semester, I can put together a custom package for you.
Do you offer discounts?
I understand that I'm not a cheap tutor. However, my fees are non-negotiable. When you work with me, you work with one of the top organic chemistry tutors in the US.
Can I adjust the number of meetings/hours later in the semester?
Sure. Adding more meetings, however, might be challenging once my schedule for the semester is settled.
Can I schedule an additional meeting from time to time, like before exams or for extra reviews?
Yep, provided I have an opening in my schedule.
Can I do a trial meeting before I commit to a package?
That's precisely what the intro meeting is for! That's why I always insist on having a single meeting before you commit so you can see for yourself if we're a match or you would benefit from working with a different tutor.
What are your expectations from students you work with?
I'm not here to be a substitute for your class, your textbook, and your professor. If you expect me to lecture you the material and learn about the concepts from me instead of learning them in class, I'm not your guy. That's not what tutoring is all about. My job is to help you systematize and make sense of the information you've already seen. So, I expect you to go to your lectures, read your textbook, and bring questions! I have an extensive collection of tutorials on YouTube and my Course. If you're looking for an alternative lecture/textbook resource, I recommend you start from there.
Are we going to be a good match?
The reality is: not every tutor and their personality and style works for every student. The personality, the style, the expectations, and the "vibe" needs to match up for a good and productive collaboration. That's why I always insist on the initial meeting before you commit to the semester or a whole year with me.
Do you have any reviews from your previous students?
Absolutely. Check them out here.
How do you meet with students?
I'm a 100% online organic chemistry tutor. I use zoom for my online meetings for video and audio conferencing support. I also use GoodNotes for notes, feedback, and collaboration tools. I typically do minimal lecturing and emphasize practical skills in my meetings, so you must have a way for drawing on the screen (iPad, Surface, drawing tablet, etc.) to be able to fully participate in the meetings and benefit from them. I only offer in-person tutoring at my local college and if it's your college you'd already know where and how to find me on campus 😜
Can I do tutoring together with a friend or a classmate?
Absolutely! Unlike most other tutors, I don't charge extra for additional students. If you want to bring a friend, you're welcome to do so! Group meetings open an opportunity for the peer-to-peer discussion and brainstorming. However, the group meetings will have less individual attention you would be normally getting in an individual meeting.
What if I can't come to my regular meeting and need to reschedule?
Not an issue. Just let me know how your schedule looks like for the rest of the week and we can find another time in the future or come up with some sort of arrangement. I'll do all I can to accommodate your schedule and changes when life happens.
I have a very hectic schedule, so regular meetings may be hard to schedule. Do you offer any asynchronous tutoring via email?
Yes. If you're interested in a regular weekly email support, I can work out a package for you that would fit your needs. Send me a message and I'll help you decide. I charge $200/wk for email/feedback only support.
Do you tutor general chemistry or biochemistry? Do you tutor other subjects?
I specialize in organic chemistry and graduate-level organic chemistry. I rarely (read "virtually never") take general chemistry or biochemistry students. If you need a general chemistry or a biochemistry tutor, I can give you some references for outstanding tutors who would be happy to help you if they have openings in their schedule, of course. I do not tutor other subjects.
Any other questions? Send me a message!
Are You Ready to Start?
Fill the Tutoring Application Below!
To Parents: I understand you want to help your student to succeed. To facilitate that please have your student fill in the application and do not fill it yourself!
To Students: please, make sure you fill the application to the best of your ability. The more complete your answers are, the easier it will be for me to get you on-board. I'll send you a follow-up email as soon as I get your application. Make sure you check it and reply to it in a timely fashion.
Organic Chemistry Tutoring Application
"*" indicates required fields